1. First read any DAROOD 11 times.
2. Then read the following prayer 11 times or 41 times or 101 times or 111 times.
3. Then end with recitation of the DAROOD 11 times.
Ask Allah to send the HADIYA (Reward) for the
DAROOD
to Nabi Muhammad

. Then ask Allah Subhana wa Ta Ala for assistance. INSHA ALLAH.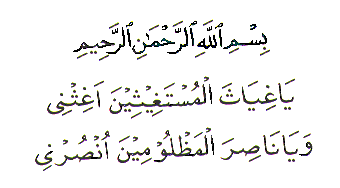 BISMILLAH HIR RAHMAN NIR RAHEEM
YA GHEYAS AL MUSTAGHEE SEENA AGHISNEE
WA YA NASIR AL MAZLUMEENA UNSUR NEE

Read more